Our Menu
A great coffee shop doesn't just serve excellent coffee and tea (although that is a big part of it). It's service with a smile, drinks made to order and the casual encounters with old friends and new, makes Cuppa Joe Coffeehouse and Cafe Fluvanna County's favorite place.
Serving up yummy pastries, original coffee and tea blends and an enjoyable, eclectic atmosphere, Cuppa Joe Coffeehouse & Cafe is pleased to serve you.
Make us your new favorite neighborhood coffee shop.
And don't forget our wondeful ice cream! We have top notch premium, hand-dipped ice cream. The best in Virginia!!!!!!!!!!
Our Menu
COFFEE
small
medium
large
Regular/Decaf
$ Refills
Fresh Rosted Coffee Whole Bean or Ground ($13.50 per Lb)
FLAVORED COFFEE
Latte/Iced Latte/ Fra Americano
single
double
EXPRESSO FRENCH PRESS (hot = 20min; cold =5 min)
CHIA TEA
LATTE
COLD PRESS
HOT CHOCOLATE
BLASTER (16oz with whipped cream)
FROZEN
Fruit or Lemon Freeze 20 oz
Protein Smoothies: Chocolate/Vanilla 20 oz Strawberry/Blueberry/BaCrossantnana (Drinks made with Almond/Soy, add .$50)
FEATURED DRINKS/CLASSICS
Fruit Smoothies ( Strawberry, Wildberry, Pina Colada, Peach & Mango)
Milkyway Out
Black & White PB Cup
Mocha Mint
Banana Mocha
Mounds Up
Snow White/ Secret Weapon
Italian Nut Job
Simores
Heath Bart
Snickerdoodle
Fruit Tea
Lemonaide
SNACKS

Popcorn
Jelly Belly Candy
Red Rocker Candy
Granola
Ice Cream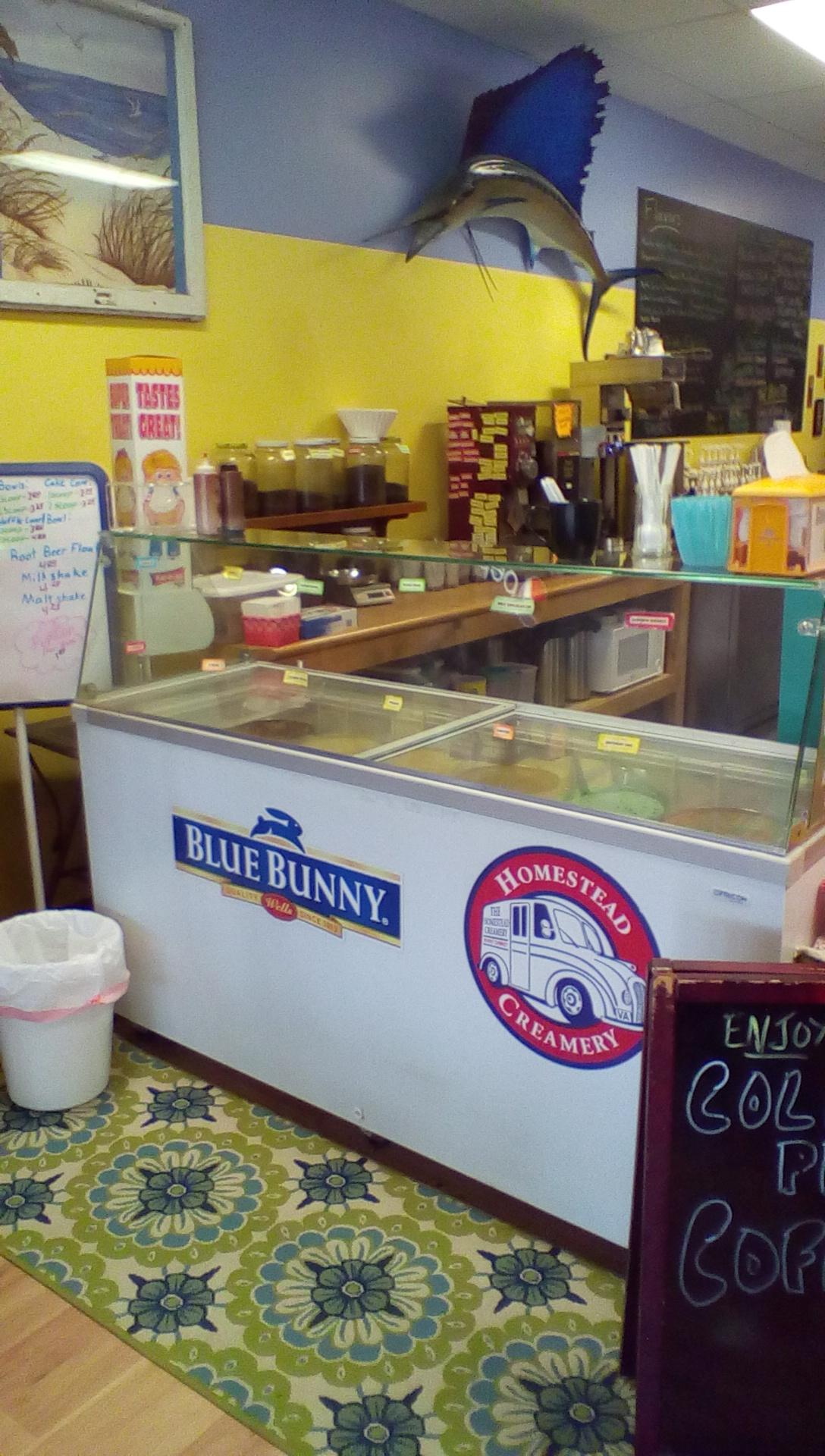 BAKED GOODs
Chocolate Peanut Butter Stack
Peanut Butter Crispy Bites
Toffee Bars
Chocolate Brownie
Double Fudge Brownie
Summerberry Stack
Peachberry Crumble
Apple Crumb Cake
Crumb Cake
Cinnamon Roll
Bear Claw
Lemon Cake
7 Layer Cake
Muffins: Banana Nut, Blueberry, Cinnamon, & Chocolate
Rock Slide Brownie
Corn Bread
Baklava
BREAKFAST
New York Bagels, including Asiago Cheese
Sausage Biscuit
Sausage Egg & Cheese Croissant
Bisquit Sausage Egg & Cheese
Bacon, Egg & Cheese Croissant
Turkey Sausage, Egg White & Cheese Biscuit

Oatmeal

LUNCH
Soups, incl. Lobster Bisque
Quiche
All Beef Hotdog
Black Bean Burger
Angus Beef Cheese Burger
Philly Cheesesteak
OTHER DRINKS
Canned Sodas
Water Bottle(s)
Kids Juice
Organic Juice
Organic Milk
Cider (when in season)